I had such high hopes for a certain Chinatown hot-spot when I showed up for happy hour earlier this week. The menu looked great, the location was convenient and the price was right. So how come I left feeling hungry and feeling very underwhelmed?
Our evening at Zengo started off ok. Earlier in the day I had made a reservation thinking that we may want to sit down. Yet, when I got to the restaurant and took a look at the
menu I realized the prices were different than what had been online. It wasn't a huge difference, but it was more the principle of the situation. When you are on a budget you have to stick to it and a few extra dollars here or there can add up.


So off to the bar we went. Trying to find a spot in the lounge was difficult but not impossible. After a few minutes of trying to squeeze through the throngs of people jockeying for the bartenders' attention we found a spot to sit.

After a good 15 minutes a waiter finally came over to take our order. My
dining companions suggested that we order in one go (even though it was tapas style) in case we never got our waiter's attention again. We ordered from the happy hour menu which looked as if there were enough options to keep our stomachs full and happy.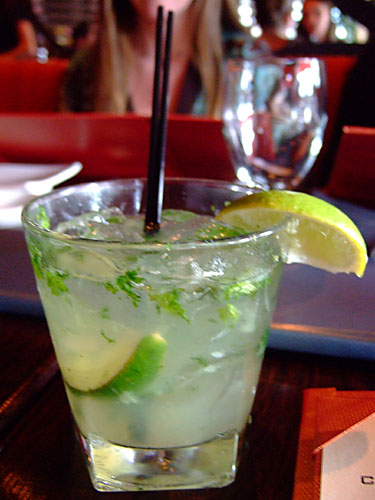 The first thing that came out was my drink - a pine mojito, aka a pineapple mojito. This was easily the best thing that I tried all evening. The flavors of the mint and the pineapple were unexpected but extremely tasty. Not long after the edamame was delivered from the kitchen. Normally edamame is the same wherever you go, but at Zengo it appears that they grill the outside of the pod to give it a nice smokey flavor.

Each of the other dishes that we ordered fell short of expectations. The Thai chicken empanadas were good, but didn't have much of a kick to them. The pork belly steamed buns didn't live up to the "steamed" part of the equation. Instead I found the buns to be a bit mushy, which made them unappetizing. The seaweed salad had a weird texture that no one at our table could quite get over. As my father would say - "Good idea. Bad execution."

Although happy hour at Zengo runs from 5:00 - 7:30 every Monday - Saturday, I don't know if this would be a place I would recommend that people go and spend their money. If you aren't looking to eat and just looking to have a drink go ahead and get cozy at the bar, but if you are looking to do some snacking, I would recommend that you head someplace else.


image: ruba.com and kevineats.com